Last Updated on September 28, 2022 by SierraLivingConcepts
A bookcase is not just a piece of furniture – it's an artistic combination of function and aesthetics. It helps you store your things away while providing an eye-catching accompaniment to your interior designs. It complements your spaces by giving you the liberty to feature ornaments, trinkets, and other things that define your personality. So, if you fancy yourself eclectic, go for the bold bookshelf. Or, if you fancy yourself a modernist, your bookcase can get that theme across.
Most bookcases are bought by homeowners depending on a number of variables – are they looking for short stature, or tall stature, want to fill up a corner, want an oversized centerpiece, are inclined towards a certain material, or prefer a certain style. So, the majority of this task is highly customized and requires a lot of thought. Here are a few things that you must remember while looking for your ideal bookcase:
The size of your space
One of the most important factors that need to be considered in your bookcase buying guide is the size of your space. Without it, you can never make the perfect selection. Imagine a solid wood bookcase that is either too small or too large and looming completely overshadowing the excellent ambiance of your home interior; it's definitely as bad as it sounds.
So, the first order of business is to know which space you want to place the bookcase in. After that, you must take extensive measurements and visualize what kind of shelf will look good there. Only when you've acclimatized yourself with that nook and know its dimensions by heart can you go browse for a bookcase that can fit its size. 
You'll also have to be extremely careful about the stature of your bookcase – make sure that it's neither too small nor tall or big for where you want to place it. Here are a few suggestions to look through before buying the bookcase:

Tallness
The height of your bookshelf has to be proportionate with the ceiling height of your room. Some in-built shelves are floor-to-ceiling, but anthropometry (human dimensions) should also be considered. Something more than 7 feet tall can be hard to put things on easily.
Width
The width of a bookcase is always scaled according to the height. Taller shelves with narrower compartments look more proportionate than otherwise. On the other hand, shorter bookshelves look more proportionate with a wider breadth.
Space between shelves
As a whole, adjustable shelves offer much more flexibility with whatever you want to display. However, if you like a fixed shelf design, then you'll have to be careful about some of the accent pieces and book spines fitting in it.
Depth
The depth of a bookshelf is usually standardized at 12" (1 foot). But some shelves are narrower depending on their designs (especially the ladder-style shelves).
Your preferred material
Another important factor in your bookshelf buying guide is the type of material that you want to go for. Synthetic wood is for short-term use and scratches/stains/burns easily. Solid wood on the other hand offer hardcore heirloom quality and easy maintenance. However, if you want to be eco-friendly and reduce your carbon footprint, then going for reclaimed wood is the best possible option. 
Of course, all of this also depends on your budget and design criteria. Some people prefer the timeworn quality of a rustic reclaimed wood bookcase over the sleek, stained texture of a solid wood bookshelf and vice versa. Similarly, you can also opt for iron or metal if you prefer an edgy industrial-style aesthetic. Personal preference is a huge factor in material selection.
The overall interior design theme
Of course, the bookshelf that you choose has to match your interior design theme. If you're working with a vintage or eclectic interior design style, then going for a hand-carved reclaimed wood bookcase can be an excellent option. On the other hand, a sleekly hand-stained and polished solid wood bookcase would make a great addition to a modern home. A bookshelf with a distressed surface would look beautiful in a rustic or cottage-style interior design.
What you want? Vs what you need?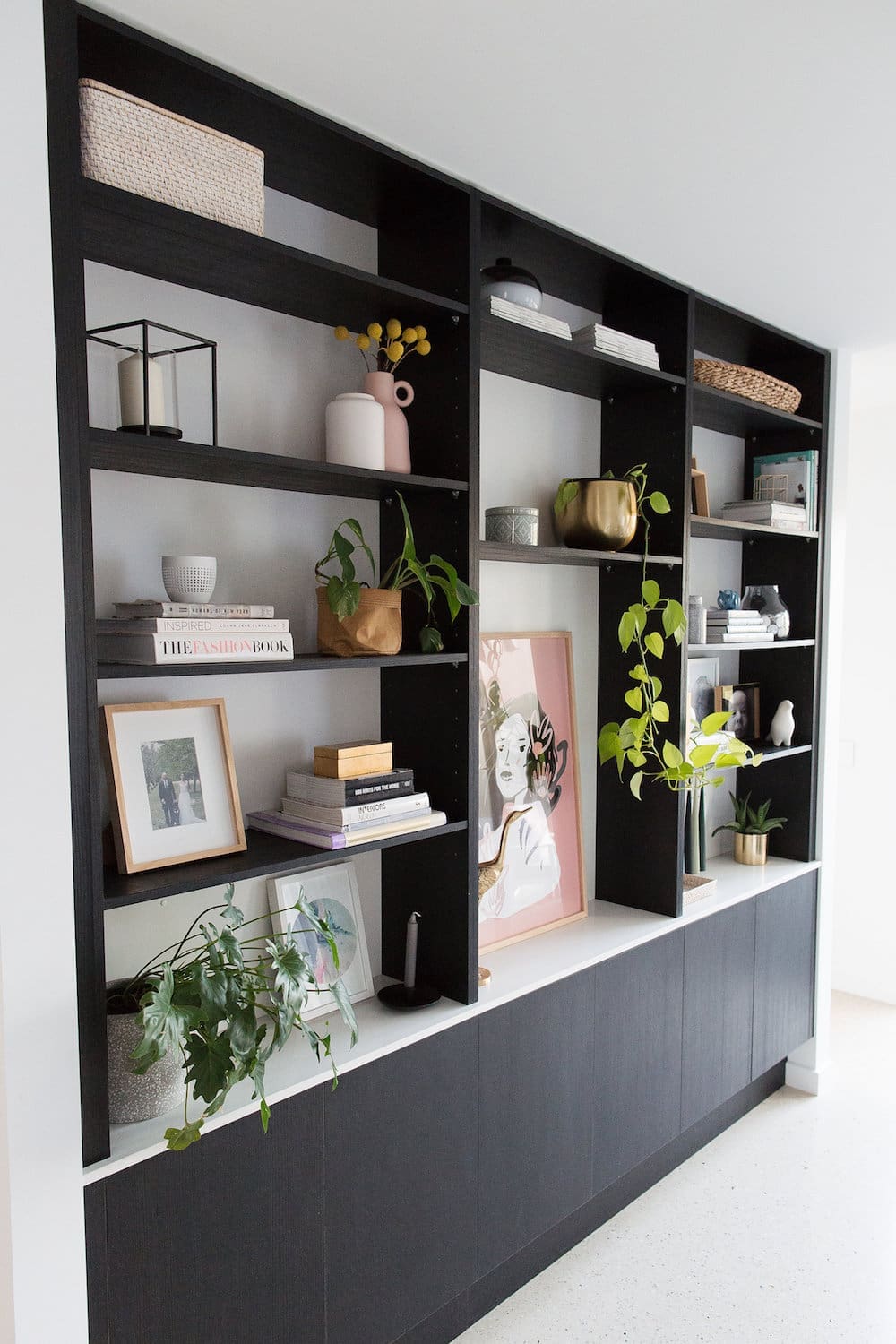 So, here's one of the most important things that you should know about bookcases: their functionality varies. For example, some solid wood bookcases are designed completely for storing while keeping things out of sight (i.e. bookcases with file drawers, bookcases with doors, etc.), while others are designed to showcase many of the trinkets that their shelves hold (i.e. open shelf bookcase, ladder bookcase, corner bookcase, etc.). Similarly, some bookcases are crafted for purely aesthetic purposes (to match a specific theme; baroque, minimalism, etc.) while others are designed to feature extensive book collections.
Then, there's the niche genre of customized solid wood bookcases that are personalized according to the needs of the user. For example, if someone wants a solid wood bookcase to showcase their shoe collection or their high-end collector's edition toys, then the dimensions of that specific case are going to be totally different and very specific. This is why you need to tap out the logistics of what you need the bookcase for before commencing the search.
Is this 'your type' of bookcase?
As you know, there are many types of bookcases & features they vary in style and design; some have an even/odd number of open shelves, some have attaché drawers/cabinets, while others are full-sized with all of the above. Some even have highly unique zig-zag designs or ladder styles. Some designs are zig-zag Once again, you need to define the type of bookcase you need to make your search easier. 
To do that, you must appraise the theme and visual quality of your interior design. Here are a few questions that can help you get a better hang of things:
Should the design be simple or elaborate? 

What exactly do you want to showcase on it; books, décor, frames, trinkets or something else entirely? 

Do you require adjustable shelves?

Do you want your bookcase to have an open or a closed back?

Do you want your bookcase to have caster wheels for easy maneuvering?

Do you want it to have an element of transparency as it'll be used as a room divider?

Do you want both open and closed storage? Or just one of them?

Does the type of bookcase you're envisioning suits your requirements? 

Can you alter the design of your pre-selected bookcase to suit your needs (like adding an extra tier to a ladder-style bookshelf or enhancing the breadth of an open-shelf bookcase to fully feature your extensive book collection)?
All of these questions can lead you towards exactly what you need as an answer.
So, at the end of the day, selecting the perfect solid wood bookcase requires a lot of thought. However, these tips can help you make the best choice according to your needs.